Bom dia, você gostaria de conhecer o Manic Street Preachers?
Oi, gente.
As valorosas e valorosos leitores desta coluna sabem o quanto gosto de música, e que chega a ser um lance meio obsessivo às vezes. Talvez não os leitores, afinal não nos encontramos na rua pra bater papo e comer pastel, mas os amigos mais próximos, sim. Mas enfim, se gosto muito de um determinado artista, a vontade que dá é mostrar a música para os mais chegados, se pudesse compraria o CD e daria de presente a todos. Até mesmo no ônibus, com os fones de ouvido, dá vontade de chegar para a pessoa ao lado (e olha que não suporto conversa com pessoas aleatórias no busão, porque geralmente querem falar de política) e perguntar "olha, você conhece essa banda? Já ouviu fulano de tal? É muito bom!", mas me controlo.
Pois bem. Uma das bandas que mais gosto de compartilhar com os amigos é o Manic Street Preachers, quarteto que virou trio (a história do desaparecimento do guitarrista Richey Edwards mereceria uma coluna à parte) surgido no País de Gales em 1986 e que lançou no último dia 13 "Resistance is futile", seu 13º trabalho de estúdio. E qual é a boa dos caras? Poderia resumir que a música que eles fazem é tão boa que até dói no coração, que faz companhia ao The National na categoria "bandas que carrego toda a discografia no celular", mas vamos lá.
O Manic Street Preachers sempre teve os pés bem firmes em várias searas musicais, do rock alternativo ao punk, passando pelo hard rock e glam rock, posteriormente juntando o pop mais acessível a essa receita. Prometeram, no início da carreira, que "Generation terrorists", seu álbum de estreia, seria o primeiro e único do quarteto, que seria "o maior da história" etc. e tal.
Sempre tiveram forte posicionamento político de esquerda, tanto que foram o primeiro grupo de rock ocidental a tocar em Cuba (chupem, Rolling Stones). Richey Edwards, antes de desaparecer, chegou a escrever o termo "4 real" ("pra valer", em inglês) no braço com uma navalha quando um jornalista duvidou da integridade da banda.
O conteúdo continua após o anúncio
Mas nada disso valeria alguma coisa se a música não fosse boa, e aí eles mandam muito bem. Tenham aquele jeitão épico do rock de arena, a urgência do punk, a delicadeza as melodias assoviáveis do pop, canções como "Everything must go", "A design for life", "Some kind of nothingness", "If you tolerate this your child will be next", "Suicide is painless", "The love of Richard Nixon", "You love us" ou "Postcards from a young man" fazem com que os álbuns dos Manics, sejam eles "Eerything must go", "The Holy Bible", "Know your enemy", "Postcards from a young man" tornem-se indispensáveis na nossa discoteca básica.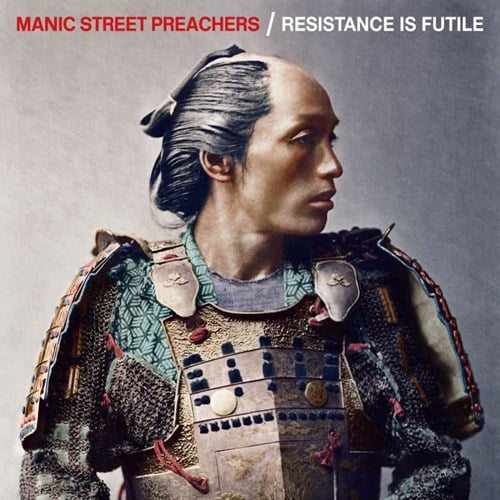 E chegou a vez de "Resistance is futile" entrar nessa lista. As doze músicas do álbum podem ser vistas como um resumo de todas as fases da banda, com o rock mais enérgico convivendo de boas com o lado melódico do trio. É como se "Generation terrorists", "Everything must go" e "Lifeblood" caíssem no mesmo vórtice temporal e ressurgissem como algo novo, com letras melancólicas sobre memória e o sentimento perda, histórias esquecidas, a nossa conturbada realidade e a arte como instrumento de fuga e inspiração.
Um dos grandes momentos de "Resistance is futile" está em "Liverpool revisited", homenagem aos familiares que lidam até hoje com as vidas perdidas na tragédia de Hillsborough, em 1989, quando 96 pessoas morreram durante o jogo entre o Liverpool e o Nothingham Forest. Além dela, "International blue", "Sequels of forgotten wars", "A song for the sadness", "Distant colours" e "Broken algorithms" servem de cartão de visitas para quem é neófito em relação aos galeses.
Por isso, caso um desconhecido cutuque seu ombro no ônibus e pergunte "por acaso você já conhece o Manic Street Preachers?", não se assuste: é apenas alguém um fã apaixonado pela boa música. E não resista, pois será inútil.
Vida longa e próspera. E obrigado pelos peixes.