Daniel Craig se despede do agente James Bond em '007 – Sem tempo para morrer'
Longa dirigido por Cary Joji Fukunaga estreia nesta quinta-feira após vários adiamentos por causa da pandemia
Siga a Tribuna no Google News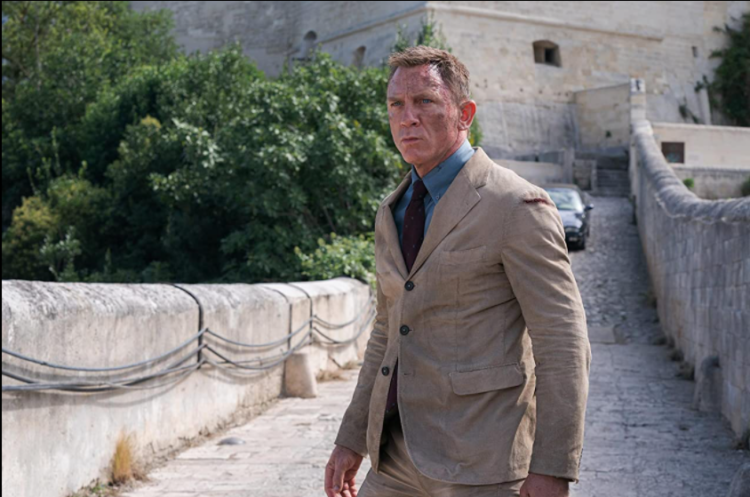 Vigésimo-quinto filme da série protagonizada pelo agente secreto britânico James Bond, "007 – Sem tempo para morrer" chega aos cinemas brasileiros nesta quinta-feira (30) depois de uma série de contratempos e adiamentos. O desenvolvimento da sequência de "Spectre" (2015) teve início em 2016, e o primeiro desafio foi convencer Daniel Craig a retornar para o papel de 007 depois de interpretar o personagem em quatro oportunidades – a primeira delas, em 2006, foi em "Cassino Royale", seguida por "Quantum of Solace", "Skyfall" e a já citada "Spectre".
Danny Boyle ("Trainspotting") foi confirmado como diretor em 2018, mas poucos meses depois ele deixou o projeto e foi substituído por Cary Joji Fukunaga, da série "True detective" – primeiro norte-americano a dirigir um longa da franquia. As mudanças provocaram, ainda, o adiamento do início das filmagens, que aconteceram apenas em 2019 com locações na Jamaica, Noruega, Itália e Escócia.
O lançamento foi anunciado para abril de 2020; porém, a pandemia de Covid-19 fez com que "007 – Sem tempo para morrer" fosse a primeira produção a adiar sua estreia – o que aconteceu ainda mais três vezes, fazendo com que o filme chegasse aos cinemas quase 18 meses após a data inicialmente prevista.
Aposentado, mas não enferrujado
A história de "007 – Sem tempo para morrer" é passada alguns anos após os eventos de "Spectre", quando James Bond terminou nos braços de Léa Seydoux (Madeleine Swann). Após desligar-se do MI6 (o serviço secreto inglês), ele decidiu curtir a aposentadoria na Jamaica. Os dias de sol, sombra e água fresca, porém, terminam quando ele é procurado por um agente da CIA para ajudar a encontrar um cientista que foi sequestrado.
Mas não vai ser essa moleza toda: o desaparecimento do sujeito está ligado a uma arma biológica roubada do MI6, e que pode causar uma catástrofe de dimensões planetárias. O artefato, claro, foi parar nas mãos de um típico vilão de James Bond, Lyutsifer Safin (Rami Malek), com direito a um time da capangas e ilha secreta.
O conteúdo continua após o anúncio
Por conta da missão freelance, Bond se envolve com uma jovem agente (Ana de Armas), descobre que o MI6 tem um novo agente 007 – aliás, nova: Nomi, interpretada por Lashana Lynch. No caminho, ele ainda vai encontrar antigos parceiros de espionagem, como o agente da CIA Felix Leiter (Jeffrey Wright), e os colegas de MI6 Moneypenny (Naomie Harris), Q (Bem Whishaw) e M (Ralph Fiennes). E pelo menos um antigo vilão, Blofeld (Christoph Waltz), também aparece na festa de despedida de Daniel Craig no papel do mais icônico agente secreto do cinema.
Estreia
007 – Sem tempo para morrer
"No time to die", EUA, ação/espionagem, 163 min. De Cary Joji Fukunaga. Com Daniel Craig, Lashana Lynch, Ana de Armas, Rami Malek.
Após se desligar do MI6, o ex-agente secreto James Bond curte a aposentadoria na Jamaica. A vida boa termina quando um agente da CIA pede sua ajuda para encontrar um cientista desaparecido, e não demora para a missão colocar Bond no caminho do típico vilão dos filmes da franquia.
UCI 1 (leg): 13h, 16h15, 19h30. UCI 3 (leg): 14h40, 17h55 (todos os dias), 21h10 (exceto qua). UCI 4 (dub): 14h, 17h15, 20h30. Cinemais Jardim Norte 2 (dub): 15h30. Cinemais Jardim Norte 2 (leg): 19h15. Cinemais Jardim Norte 4 (dub): 13h45, 17h15 (todos os dias), 20h45 (exceto qua).
Classificação: 14 anos