'The end of the fxxxing world', enfim no papel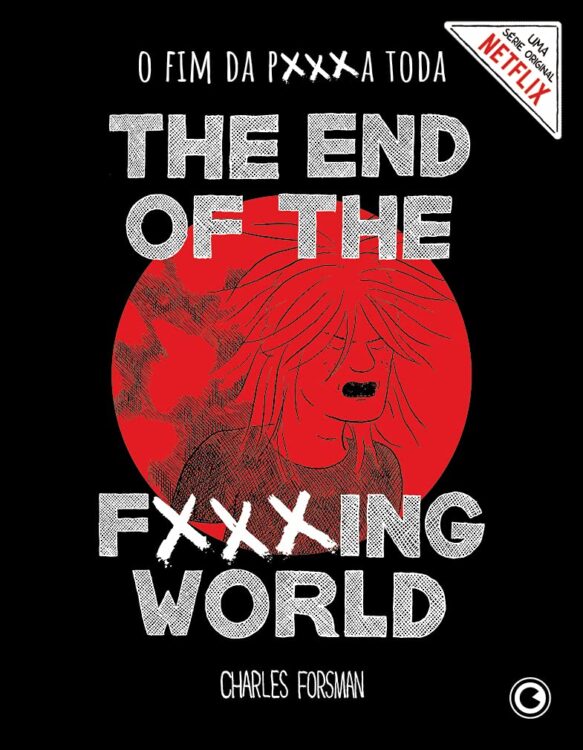 Oi, gente.
"The end of the fxxxing world" foi uma das melhores séries que assistimos em 2018, e ganhou na época uma resenha cheia de elogios nesta coluna. Como explicamos na ocasião, a produção da Netflix era a adaptação dos quadrinhos escritos e ilustrados por Charles Forsman – que teve outra HQ, "I am not OK with this", levada para a telinha pelo serviço de streaming, infelizmente cancelada na primeira temporada. Por outro lado, "TEOTFW" (como também é conhecida pelos fãs) fez tanto sucesso que ganhou uma segunda temporada com uma trama totalmente inédita, que aproveitou partes do que não havia sido aproveitado do material original.
Entretanto, faltava chegar ao Brasil os quadrinhos publicados originalmente por Forsman entre 2011 e 2012, em 16 capítulos de oito páginas cada, transformado em volume único em 2017 pela editora norte-americana Fantagraphics Books. E foi nesse formato – parecido com um livrinho de bolso e capa dura – que a HQ chegou ao nosso maltratado país no final do ano passado, via Conrad Editora, com o subtítulo "O fim da pxxxa toda". Podemos afirmar, com toda sinceridade, que "The end of the fxxxing world" é uma ótima série de TV que adaptou uma ótima história em quadrinhos.
O conteúdo continua após o anúncio
A história, passada nos Estados Unidos (na Netflix, ela acontece na Inglaterra), tem como protagonistas os adolescentes James e Alyssa. Ele é um projeto de sociopata, cujo passatempo é matar pequenos animais – e que chega ao ponto de enfiar uma das mãos no triturador de lixo para tentar sentir alguma coisa -, enquanto Alyssa é atraída pelo seu jeito silencioso, que ela vê como um complemento para o seu sentimento de deslocamento em relação às coisas. James, por sua vez, até pensa em matar a garota, mas vê em Alyssa a chance de despertar algum sentimento dentro de si. Em busca de conexão e a fim de se livrar do tédio, eles decidem fugir juntos, e as consequências levarão o casal a descobrir como é difícil o mundo fora do seu círculo mais próximo.
Com "The end of the fxxxing world", Charles Forsman criou um história sobre amadurecimento, encarar os próprios traumas, fragilidades, o quanto os adultos podem ser maus ou ridículos, o tédio de uma existência que ainda não encontrou sentido. Mas é, sobretudo, uma história de amor nada convencional, com duas figuras que – como todo adolescente – tentam mostrar força onde, muitas vezes, o que existe é o medo e o desejo de ser amado.
A história é ainda mais valorizada pela forma como é contada, com cada capítulo dando destaque a um dos protagonistas, numa trama de poucos diálogos e desenhos em preto e branco de uma simplicidade ímpar, que remetem às tirinhas de Charles Schulz (o criador da "Turma do Charlie Brown"), em que a falta de movimento, ação, casa perfeitamente com a sensação de tédio de James e Alyssa, e que mesmo assim é chocante nos momentos violentos.
Para quem já assistiu à série da Netflix, retornar ao universo de "The end of the fxxxing world" por meio dos quadrinhos vale a pena pela forma como Charles Forsman desenvolve a história; para os novatos, fica a oportunidade de conhecer James e Alyssa por onde tudo começou: em uma história em quadrinhos irresistível.
Vida longa e próspera. E obrigado pelos peixes.