A estreia de Sedibus + Genesis Owusu, The Black Keys e Moby
Oi, gente.
Nove de junho é apenas o 160º dia deste interminável e distópico ano de 2021, mas podemos afirmar sem medo de sermos felizes que já temos um dos cinco melhores álbuns do atual giro em torno do Sol. Trata-se de "The heavens", disco de estreia do Sedibus, projeto do fundador e único membro fixo do The Orb, Alex Patterson, com o ex-integrante Andy Falconer, que está para jogo desde 28 de maio.
O trabalho é o primeiro lançamento do selo Orbscure Recordings, criado pelo próprio Patterson, e também a primeira parceria com Falconer desde o clássico álbum de estreia do The Orb, "Adventures beyond the Ultraworld", que está na nossa lista de 20×2 álbuns de 1991. Pois nem parece que três décadas se passaram desde então, o que quer dizer que "Adventures…" continua à frente de seu tempo e "The heavens" tem tudo para seguir o mesmo caminho.
O álbum tem 59 minutos e apenas quatro músicas _ além de versões editadas de duas delas -, com o melhor que a ambient music pode oferecer. A mais "curta", "Afterlife aftershave", tem "apenas" nove minutos, enquanto que "Unknowable" chega aos 18 minutos de transcendentalidade. "The heavens" é capaz de fazer o ouvinte levitar a cinco centímetros de qualquer superfície plana, então vale a pena tirar uma hora de seu dia para se isolar na escuridão de seu quarto e atingir outro patamar de consciência.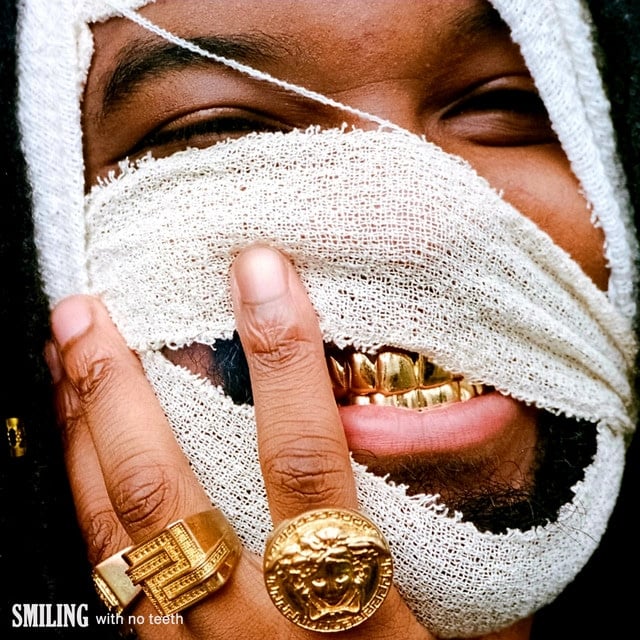 Outro disco que pode entrar nessa lista das cinco melhores de 2021 é "Smiling with no teeth", de Genesis Owusu, que descobri graças ao podcast "Álvaro & Barcinski & Forasta e & Paulão". Foi ouvir "The other black dog" no programa e correr atrás do álbum, lançado em março e que é um senhor disco de estreia.
Genesis Owusu é o alter ego de Kofi Owusu-Ansah, nascido em Gana em 1998 e que se mudou para a Austrália quando tinha apenas dois anos de idade. Foi lá do outro lado do mundo que descobriu o hip-hop, que ele mistura com o funk, soul, rap, música eletrônica e outros bagulhos em 15 canções imperdíveis. A crítica tem aplaudido o trabalho e citado uma panelada de influências, incluindo Prince, Kanye West, Childish Gambino, Radiohead, Outkast, Erykah Badu, Kendrick Lamar.
As músicas de "Smiling with no teeth" tratam de temas como racismo, orgulho preto, autoimagem e relacionamentos tóxicos, entre outros. Além da absurdamente boa "The other black dog", podemos recomendar "Centrefold", "On the move!", "I don't see colour", "A song about fishing" e "Don't need you" como cartões de visitas que farão o ah migo e ah miga correrem atrás de um álbum tão variado quanto excepcional. Genesis Owusu é um sujeito para ficarmos de olhos e ouvidos abertos pelos próximos anos.
O conteúdo continua após o anúncio
Enquanto isso, a dupla The Black Keys preferiu reverenciar suas principais influências em seu décimo álbum. "Delta Kream" reúne 11 versões que homenageiam os artistas de blues do Mississipi, gravadas em apenas duas sessões após a turnê de divulgação do álbum anterior, "Let's rock".
Dentre os mestres reverenciados estão John Lee Hooker, Big Joe Williams, R. L. Burnside, Big Joe Williams, Mississipi Fred McDowell, Ranie Burnette e Junior Kimbrough, que teve nada menos que cinco de suas canções regravadas pelo vocalista/guitarrista Dan Auerbach e pelo baterista Patrick Carney. É um álbum sem maiores pretensões além de homenagear os mestres Jedi do blues, e por isso mesmo dá para curtir sem maiores problematizações músicas como "Crawling Kingsnake", "Poor boy a long way from home", "Walk with me" e "Coal Black Mattie".
Mas que fique claro: assim como as músicas citadas no álbum de Genesis Owusu, estas são apenas dicas para encontrar o caminho das pedras, pois "Delta Kream" merece igualmente ser ouvido do início ao fim.
Quem também resolveu revisitar o passado foi o astro vegano Moby, porém com versões orquestradas de alguns de seus principais hits no álbum "Reprise". O projeto começou a ganhar forma em 2016, quando assistiu a um concerto com orquestra de Brian Ferry; primeiro, porém, veio uma apresentação em 2018, que despertou o interesse da Deutsche Grammophon, gravadora alemã especialista em música clássica, em gravar um álbum com essas releituras.
Convite feito e aceito, "Reprise" foi gravado com a Budapest Art Orchestra e uma penca de convidados, incluindo Mark Lanegan, Kris Kristofferson, Gregory Porter, Skylar Grey e Amythyst Kiah, entre outros. O resultado fica entre o muito bom e o "interessante", com as versões de "Natural blues", "Go", "Why does my heart feel so bad?", "Porcelain", "Extreme ways" e "God moving of the face of the waters" sendo as que ganharam as melhores reinterpretações.
Aos 55 anos, Moby chegou naquele ponto da vida e da carreira em que se encontra a serenidade para se aventurar em outras praias musicais, e podemos dizer que ele mandou bem o suficiente para ouvirmos o álbum outras e outras vezes.
Vida longa e próspera. E obrigado pelos peixes.