O Kaiju amigo de 'Círculo de Fogo: The Black'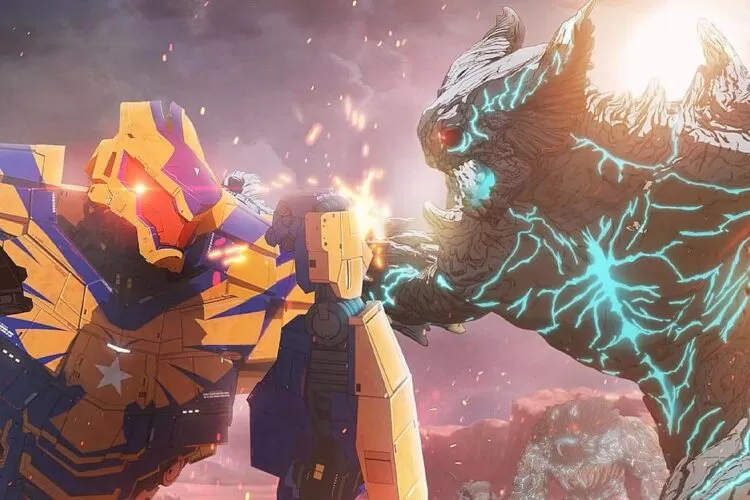 Oi, gente.
Sem medo de errar, podemos afirmar que "Círculo de Fogo: The Black" possui três méritos indiscutíveis: apresentou uma premissa interessante, que é bem desenvolvida em seus 14 episódios; amplia o universo criado por Guillermo del Toro no maravilhoso filme de 2013; e quase nos faz esquecer daquela pavorosa continuação para os cinemas lançada em 2018, que não teve a participação do cineasta mexicano.
Lançada pela Netflix ano passado, a animação tem sua trama passada na Austrália, que teve de evacuar sua população após uma invasão de kaijus. Poucos jaegers e humanos permaneceram no país: dois deles são os irmãos Hayley e Taylor, deixados pelos pais – pilotos jaegers – em um local seguro e com a promessa de que retornariam algum dia. Com o passar dos anos, as crianças, já adolescentes, encontram o Atlas Destroyer, um dos gigantes robôs construídos para combater os monstros, e decidem usá-lo para cruzar o deserto australiano e chegar até Sydney, cidade para onde seus pais foram a fim de combater os kaijus.
Acompanhamos então o início dessa jornada, em que os irmãos precisam combater alguns monstros, fugir de outros e se deparam com humanos com objetivos nada nobres. Nesse caminho, eles encontram ainda a assassina Mei, que se junta ao grupo, e o híbrido de humano e kaiju conhecido como Garoto. A primeira temporada é ficção científica das boas, acrescentando ação e o drama dos jovens que buscam reencontrar sua família, e o season finale deixa um gosto de mistério com a aparição das Irmãs dos Kaijus.
O conteúdo continua após o anúncio
E é esse grupo de mulheres a principal ameaça da segunda temporada, que acrescenta o sobrenatural e até mesmo o terror à equação. Elas acreditam que o Garoto é o "messias" destinado a deflagrar o apocalipse que vai exterminar a humanidade e deixar o planeta exclusivamente para os kaijus. Apesar da ameaça das Irmãs render ótimos momentos de suspense, tensão e terror, a origem do grupo e suas motivações ficam soltas na trama, como se fosse aquela peça que a pessoa encaixa à força por ser colocada no lugar errado do quebra-cabeça.
A origem do Garoto também não é explicada em nenhum momento, mas, ao final, ter esses mistérios sem resolução não atrapalha a experiência, pois já aprendemos que nem todas as perguntas precisam de respostas. "Círculo de Fogo: The Black" é empolgante, claro, por mostrar em uma animação impecável a pancadaria entre Atlas Destroyer e os kaijus, e é igualmente recomendável pela história que trata dos laços familiares – sejam eles antigos ou novos -, sacrifício, perda e resiliência, por mais que os coaches tenham estragado a palavra.
O series finale, como escrevemos, deixa em aberto alguns mistérios que renderiam uma terceira temporada, mas parece que a produção realmente terminou de contar a história que havia planejado. Só nos resta torcer, então, para que a Netflix, outro serviço de streaming ou a própria Legendary Pictures (produtora dos dois filmes) traga novas histórias desse universo – e esquecendo, pelo amor de Odin, a existência de "Círculo de Fogo: A revolta".
Vida longa e próspera. E obrigado pelos peixes.